Derriford Hospital patient feared 'stab threat' man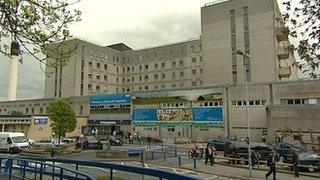 A hospital patient has complained about being put in a bed next to a man who had threatened a member of staff with a knife.
Mark Forrest, 57, said he felt "unsafe and intimidated" at Derriford Hospital in Plymouth, where he was recovering from a knee operation.
The patient next to him was being guarded by a private security guard with a stab vest.
Derriford Hospital denied that Mr Forrest's safety had been compromised.
Safety 'paramount'
Leg amputee Mr Forrest, from St Ann's Chapel in Cornwall, was in hospital for an operation on his remaining leg on 20 November.
He said: "I noticed a guy in the corner with a black stab vest. I thought 'What the hell's going on?'
"Then I realised it was some sort of security.
"I found out afterwards that the guy next to me had threatened a member of staff with a knife and the private security was to protect staff."
He added: "I can't fault the treatment I received but, to be put in a position like I was, was traumatic."
He spoke to staff about his concerns and was moved to another ward.
Plymouth Hospitals NHS Trust said in a statement that ward staff, on occasion, requested assistance from their security team.
"If a security guard is present on a ward, they are in constant liaison with the ward staff and full risk assessments are always undertaken," said a spokesperson.
"The security guard would not leave a patient if it was felt that a risk would be posed to other patients or our staff."
It said patient safety was of "paramount importance".
"We would not compromise the safety of our patients or that of our staff and on this occasion, Mr Forrest's safety was in no way compromised because the right measures were put in place," it said.