More paramedics hired in Yorkshire Ambulance job boost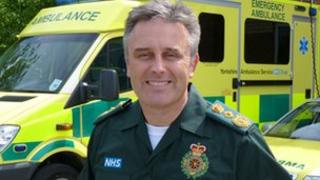 More than 200 new paramedics are being recruited by the Yorkshire Ambulance Service (YAS) under plans to boost the number of "frontline" staff.
The service said there were 70 extra paramedics working in the region compared to last year with 150 more to be hired over the next three years.
The jobs boost will also see 110 additional A&E emergency staff recruited by next March.
The service said it was part of a drive to improve "quality and safety".
David Whiting, YAS chief executive, said: "People across Yorkshire and the Humber rely on us and our absolute focus is to ensure that we continue to deliver a safe, responsive and high quality service when they need us most."
He added: "The investment that we are making in frontline emergency staff will further improve the quality and safety of the services that we provide to our patients."
In September, YAS figures showed it was failing to meet national targets on response times in rural North Yorkshire.
Figures for this year show the service is only reaching 57% of call-outs within eight minutes in Hambleton, Richmondshire and Whitby.
The national target is to reach 75% of emergency calls within that time.