Cataract surgery helps Dennis the 'withdrawn' Eurasian crane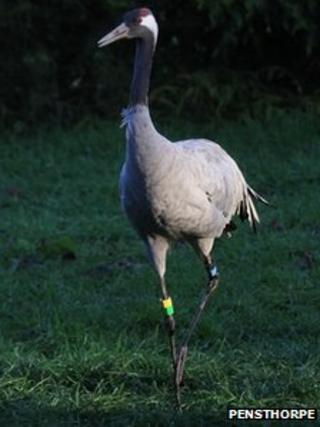 A "withdrawn" crane which had been losing weight and spending more time on his own has been given a new lease of life by a cataract removal operation.
Dennis, a three-year-old Eurasian crane, was diagnosed after staff noticed behaviour changes at Norfolk's Pensthorpe Conservation Trust.
Hertfordshire vet David Gould said he thought it was the first cataract operation on a crane in the UK.
He said following the surgery, "Dennis appears much more confident now".
Staff at the reserve called in specialists after Dennis began exhibiting unusual behaviour.
An examination revealed Dennis's fuzzy eyesight and Dr Gould, who has previously carried out the surgery on dogs and cats, agreed to remove the cataracts.
"Before we operated, we contacted veterinary ophthalmologists throughout the world via an online forum, but we couldn't find anyone who'd done anything like this on a crane before," he said.
Chrissie Kelley, head of species management at the trust, said that before the operation, Dennis was "unable to see much more than silhouettes, but now has restored vision and is doing well".