Lord Cowdray in Fernhurst anti-fracking legal bid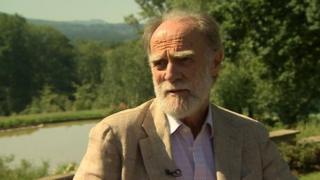 A landowner is using a legal challenge spearheaded by Greenpeace to stop fracking under his land.
The campaign group claims homeowners have the legal power to stop companies drilling under their properties.
Lord Cowdray said Celtique cannot drill for oil or gas on or under the land in Fernhurst, in the South Downs National Park and near the Surrey border. He said the "endgame" would be fracking.
Celtique said it would always seek to agree access rights amicably.
A spokeswoman for Lord Cowdray said: "The ball is in Celtique's court.
"If they push on with their plans, despite Lord Cowdray having refused permission, he has instructed lawyers to act on his behalf to stop them."
'Toxic chemicals'
Lord Cowdray, who moved to Fernhurst from his stately home Cowdray Park House, owns large amounts of land in the national park.
In a statement issued through Greenpeace, Lord Cowdray said: "I do not support fracking at all, and I especially oppose it in a national park, with the potential for ground water and aquifer pollution from the toxic mixture of chemicals they'll be using.
"It's hardly what people expect when they come to an area of outstanding natural beauty - flares, trucks and 40m tall gas rigs."
Celtique Energie has submitted an application to test for oil or gas near Kirdford and Wisborough Green, and has said it is also applying for the site in Fernhurst.
The company said the application would not involve fracking - hydraulic fracturing - the method used to extract fossil fuels from shale rock, but said it would assess the potential of any shale rock in the well.
Celtique's CEO Geoff Davies said that "assuming we obtain planning approval to drill at the proposed well screened site, and an attempt is made by somebody to restrict access, we would always seek to amicably agree access rights by negotiation with landowners and, failing that, we may have to challenge this in the courts".
He added: "A final recourse, of course, would be to use the statutory powers which are open to us; where any owner unreasonably denies access we can apply for a statutory easement for the necessary rights."