East Surrey Hospital unveils foundation trust bid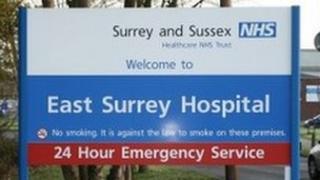 Public meetings are being held across Surrey and Sussex as part of a hospital's bid to achieve foundation trust status.
Surrey and Sussex Healthcare NHS Trust, which runs East Surrey Hospital in Redhill, is aiming to become a foundation trust by April 2015.
The trust said a series of meetings would be held across the region before the consultation closed on 28 February.
The first meetings were being held in Dorking on Monday and Oxted on Friday.
'Mark of quality'
Michael Wilson, chief executive of the trust, said: "Achieving foundation trust status these days is about achieving a mark of quality - it's a badge that says we deliver the best services."
The trust said the hospital would "remain firmly" within the NHS but would be "free from the direct control of central government" and accountable to local people instead.
It said it wanted to ensure patients were seen quickly and efficiently, services were as safe as possible, patients had a good experience, and facilities and equipment were fit for purpose and gave patients confidence.
Two years ago, MPs criticised the government drive to get all NHS trusts to achieve foundation trust status by 2014.
The Public Accounts Committee said financial difficulties had led NHS services across England to undergo major reorganisations.
'Major reorganisation'
Surrey and Sussex Healthcare NHS said it would have to make a strong case to achieve foundation status and show it had high-quality services, well-managed finances, enough staff in the right areas, and a low failure risk.
Mr Wilson said local people could also have a greater say in the trust's work by becoming foundation trust members and electing governors.
Public meetings will be held in East Grinstead, Redhill, Crawley and Reigate in December, and in Redhill, Horsham and Crawley in January.
The trust provides services to about 535,000 people across Surrey and West Sussex.