New Look North presenter Amy Garcia takes up role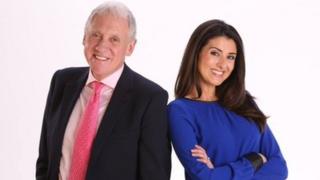 The new presenter of BBC Look North in Yorkshire has taken to the screen.
Amy Garcia's appointment follows the dismissal of Christa Ackroyd in July for what the BBC described as a breach of contract.
Garcia, born and bred in Wakefield, started on Monday's 18:30 GMT programme alongside co-presenter Harry Gration.
She joined Look North as a broadcast journalist four years ago before moving to BBC South Today in 2012 and has also presented BBC Three's 60 Seconds news.
Before the broadcast Garcia, 32, said: "It feels like the first day at school, I'm so nervous.
"You kind of become that extra person at the dinner table when you're on the 6.30 news."
Garcia has returned from maternity leave after the birth of her first child and has moved back to Yorkshire where she still has strong family ties, with her husband and baby.
She attended Kettlethorpe High School and Wakefield College before moving to London as a 19-year-old for her first job in children's TV.
She spent four years in the children's genre, cutting her teeth on live TV programmes on CBBC, CITV and the Disney channel. She then worked for Sky for a period, before studying for her MA in television journalism, for which she achieved a distinction.