Widening of the A21 'would save lives' MP says.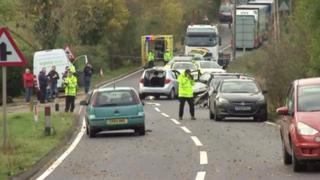 The A21 between London, Kent and the East Sussex coast should be made a dual carriageway to prevent further deaths, a Kent MP says.
Greg Clark, Conservative MP for Tunbridge Wells has written to the transport secretary following two serious crashes.
A cyclist died in Robertsbridge on Monday and four people were injured in a crash in Lamberhurst on 12 November.
Mr Clark said: "We have always known the A21 is a real accident blackspot."
During the past year there were almost 200 accidents on the route between London and Hastings, he said.
A public inquiry into the widening of the A21 is due to report in the next few months.
'Strong safety case'
"I've said the case for the A21 in my view, is overwhelming," Mr Clark said.
"There is a strong economic case to get people into and around our area, but there is also a really strong safety case.
"This is a notorious accident blackspot - people have been killed there."
The Highways Agency plans to upgrade a 2.5-mile (4km) section of the A21 between Tonbridge and Pembury from a single to a dual carriageway.
In October, Greg Barker, the MP for Bexhill and Battle, called on the Highways Agency to make the A21 at Hurst Green safer after a number of crashes.
"In some places it's little better than a country lane," Mr Clark said.