London 'slavery' case women met 'in collective'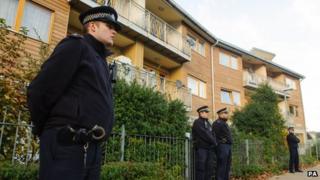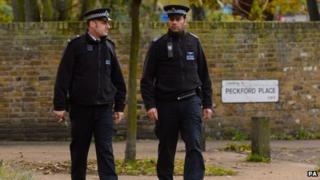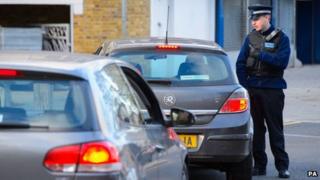 Two of three women who were allegedly held as slaves in London for at least 30 years met a man who has been arrested via a collective, police say.
Officers said they met "through a shared political ideology" before living together.
Three women were rescued last month from a house in London after one of them called a charity asking for help.
A couple, arrested on Thursday, migrated from India and Tanzania in the 1960s, said police.
Police are making house-to-house inquiries in and around Peckford Place in Brixton, south London, which is near to where the suspects were arrested.
'Gain trust'
The alleged victims - a 30-year-old British woman, a 57-year-old Irish woman and a 69-year-old Malaysian woman - are now in the care of a specialist non-governmental organisation after they were rescued from what police said was a "residential address" last month.
Police said the 30-year-old woman had a birth certificate but no other official papers.
The case came to light after the Irish woman rang Freedom Charity to say she had been held against her will.
The two people arrested are thought to be married. The man is 73 while the woman is 67. They had been held on suspicion of immigration offences and have been released on police bail until January.
Police had previously said they had also been arrested in the 1970s but have not revealed what it was in connection with.
In a statement, Cdr Steve Rodhouse of the Metropolitan Police, said: "We believe that two of the victims met the male suspect in London through a shared political ideology, and that they lived together at an address that you could effectively call a 'collective'.
"Somehow that collective came to an end and the women ended up continuing to live with the suspects.
"How this resulted in the women living in this way for over 30 years is what are seeking to establish, but we believe emotional and physical abuse has been a feature of all the victims' lives."
He said when the women were removed from the house on 25 October it was agreed "that police would not at that stage take any action".
"Since that date we have been working to gain their trust and evidence, that came to fruition on 21 November when we were in a position to make arrests," he said.
'Emotionally fragile'
"Between 25 October and 21 November none of the three victims were reported missing to the police."
Cdr Rodhouse said the women were "emotionally fragile and highly vulnerable".
Aneeta Prem, founder of Freedom Charity, told BBC News the three women are "quite stressed about the amount of detail that is being revealed".
She said they were "very concerned about the media attention" and they are worried that they will be found.
Ms Prem said: "These women have had traumatic and disturbing experiences, which they have revealed to us.
"What needs to happen now is that the three victims, who have begun a long process of recovery, are able to go through their rehabilitation undisturbed, without being identified."
Neighbour Abdul Rogers said: "It's really shocking. It's a kind of quiet area. The problem with this place is people don't speak to each other."
Earlier, Frank Field MP, chair of the Modern Slavery Bill evidence review, said the case was just the "tip of a rather large iceberg".
"We've had this example of domestic slavery but people are being imported to work, almost for nothing, in industry," he told BBC Breakfast.
"We've got begging gangs being developed, with people being imported. And of course we've got the whole question of how children are being imported to work."
The Modern Slavery Bill, which is due to published in the coming weeks, is designed to increase the penalty of those convicted to life imprisonment and create an anti-slavery commissioner.