Travellers fail in Meriden return bid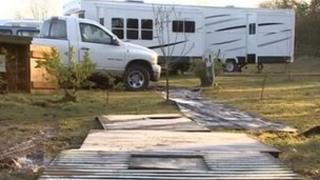 Travellers have lost their appeal to return to greenbelt land in the West Midlands.
Community Secretary Eric Pickles agreed with planning inspectors that their appeal should be dismissed.
The travellers were ordered to leave the land at Meriden, near Solihull, in April this year, and quickly lodged an appeal against the eviction.
They first arrived at the site in 2010, and about 200 villagers held a 24-hour vigil in protest at their arrival.
Residents then set up a campaign group, Meriden Residents Against Inappropriate Development (RAID), and built their own camp opposite in protest.
In August, travellers left the Eaves Green Lane site, less than 24 hours before a court-imposed deadline ordered them to move.
A report from the Department for Communities has now concluded their return would be "harmful to greenbelt land."
It said: "The Secretary of State agrees with the planning inspector that the caravan site would, by definition, be harmful to the greenbelt."