Rent help applications double in Devon and Cornwall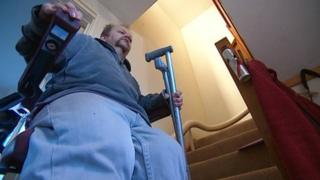 The number of people on benefits asking their council for emergency help to pay their rent has more than doubled in Devon and Cornwall.
Between April and September 2012, a total of 1,600 people applied to their local authority for help, while over the same period this year, applications more than doubled to 4,100.
The increase comes after the government tightened housing benefit rules in April, meaning people with spare bedrooms get less money.
The emergency bailout, known as a discretionary housing payment, is available to help people bridge the shortfall in benefits, but the cash is normally time-limited.
The change to housing benefit has been dubbed the "bedroom tax" by Labour, but the government calls it a "spare room subsidy".
It basically means a housing benefit cut for working age people renting social housing if they are occupying a larger property than their household size and structure would warrant.
One extra bedroom means a 14% reduction in housing benefit, while two extra bedrooms results in a 25% cut.
Under the new rules of under occupancy, Matt Pope, from Mid Devon, has had to find an extra £80 a month to pay his rent since his marriage broke down and his wife and twins moved out, leaving him with two spare bedrooms.
He said it had been a tough year.
"My marriage had broken down, my wife had left taking my children and I'd previously lost my job and tribunal," he told BBC News.
"Then all of a sudden I had letters from the council saying they were going to charge me for the now vacant rooms I had and it felt like the straw that broke the camel's back at that point.
"I did attempt suicide in April - it was a just a culmination of all of those issues."
'Temporary fix'
Mr Pope, who is physically disabled, fell behind with the rent and recently got a letter from his council warning him that he could be evicted if he didn't pay the £78 pounds he owed.
He has been claiming discretionary housing payment to help him cover the shortfall but the amount has reduced over the past 3 months and is due to end in December.
Although Mr Pope is now up to date with his rent after his local parish council used a community crisis fund to pay off his arrears, he knows it was a temporary fix and said he is worried about the future.
"The council has spent thousands of pounds on keeping me in this property by adapting the place to suit my requirements and meet my disability... it doesn't make sense," he said.
The government has given councils more funds for discretionary housing payment this year in anticipation of the impact of its welfare reforms, but some housing providers fear there is not enough money to help everyone who needs it.
'Changes needed'
Sarah Wigmore, from the Westcountry Housing Association, said there were variations in the rules set out by different local authorities.
"In one area we've made seven applications and all seven applications have been refused," she said
Plymouth has seen one of the biggest increases in people applying for discretionary housing payment - with the number more than tripling from 200 last year to more than 700 this year.
However Oliver Colvile, Conservative MP for Plymouth Sutton and Devonport, insists the benefit changes are needed.
"The problem has been that housing associations haven't really planned for this - they have just thought they could carry on building family houses, when actually there are some people who don't need that," he said.
"The big issue though, is that there are an awful lot of people who are living in cramped accommodation... and we've got to find a way of making sure those people have got the right accommodation."