West Midlands pensioners' free travel threatened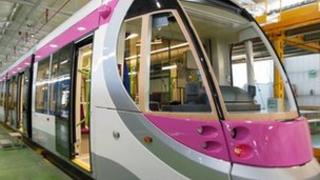 Free tram and train travel for over 65s could stop in the West Midlands, as part of potential cost-cutting ideas.
Centro said it had to save £14m, almost 10% of its annual budget.
Other ideas include children paying two thirds of the adult bus fare rather than half fare, and reducing the grant to the ring and ride service.
Campaigners said cutting free travel would be "a major problem". Centro said "everything" was up for consideration.
Its members will meet on Monday to decide which proposals will be put out to consultation.
'Dramatic impact'
Centro chairman John McNicholas said the free over 65s bus pass was "safe" as part of the statutory services it provides on behalf of the government.
But he added a decision by the seven councils which fund Centro to give it less money would have "a dramatic impact" on how it delivers services.
A Centro spokesman added: "We're having to do [this] with a very heavy heart. Unfortunately, the financial situation is such we have nowhere else to turn."
Sid Ashby, from West Midlands Pensioners Convention UK, said it would be "a tragedy" if the ring and ride grant was reduced.
He added: "It would cause real hardship... because the fact is our poorer sections of our population just haven't got the money to spare."
Centro is responsible for bus, rail and Midland Metro tram transport in the West Midlands.
It is funded by Birmingham City Council, Coventry City Council, Dudley Borough Council, Sandwell Borough Council, Solihull Borough Council, Walsall Borough Council and Wolverhampton City Council.