Norfolk ambulance manager switch 'papering cracks'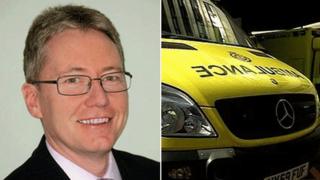 An ambulance service has been accused of "papering over the cracks" by using managers to boost "frontline" support.
Andrew Morgan, interim chief executive of the East of England Ambulance Service, highlighted response times in north Norfolk as "unacceptable".
One solution was to take "clinical managers" off "office duties", he said.
But Gary Applin, of Unison, said he was concerned a "tier of support" for staff was being removed and the move was "papering over cracks".
The trust aims to respond to 75% of life-threatening incidents within eight minutes, but in north Norfolk the figure has fallen as low as 29%.
'Extra cover'
The service said it was working on redirecting funds into "frontline services" to boost the number of ambulances on the road.
Mr Morgan said: "This is being delivered through a restructure of the trust's back office and support services to make them more efficient.
"No untrained back office staff are being asked to work on ambulances or in our control rooms."
He said clinical managers would be "setting aside time away from their office duties in order to provide direct support on our frontline, by crewing emergency vehicles and responding to patients".
He added: "This provides the region with extra cover during a period when we expect demand to rise."
But Mr Applin said he was worried about the impact on staff at the trust.
"It feels a bit like papering over the cracks," he said.
"Let's not forget that managers do stuff for staff on the road. If you take them out you are taking away a tier of support."