Lee Seddon appeal: Reward offered after machete robbery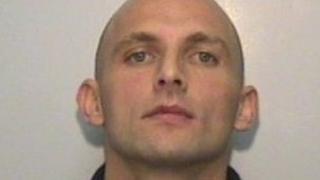 A £25,000 reward is being offered for information that leads to the arrest of a man wanted by police following an armed robbery in Preston.
Lee Seddon, 36, whose last known address was in Bolton, is wanted following the raid at Brookfield Newsagents on Langfield Road in June.
Guards were robbed by three men, one with a machete, as they made a delivery to a cash machine at the newsagents.
Mr Seddon is still at large despite a BBC Crimewatch appeal in September.
Police believe he is being harboured in the Manchester area.
The three robbers, who were wearing balaclavas, fled in a Mini Cooper which was found a short time later in Troutbeck Place.
Two men from Greater Manchester have pleaded guilty for conspiracy to commit robbery and will be sentenced at Preston Crown Court next month.