Three Marine Conservation Zones zones for south coast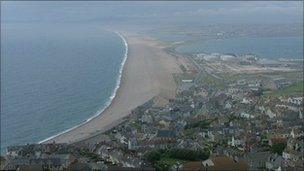 Three areas off the Dorset coastline have been designated as Marine Conservation Zones (MCZ) by the government.
The decision was welcomed by Dorset Wildlife Trust, despite its three other proposed sites not being accepted.
Hampshire and Isle of Wight Wildlife Trust said it was disappointed none of its proposed MCZs had been taken up.
The government announced 27 new MCZs to protect wildlife in the seas around the English coast.
They included Poole Rocks in Poole Bay, Chesil beach, with Stennis Ledges, and an area south of Weymouth Bay in Dorset.
The designation is applied to areas considered important to conserving rare or threatened habitats and promoting biodiversity in coastal areas.
Two more sets of MCZs are due to be consulted on in 2015-16 and 2016-17, the Department for Environment, Food and Rural Affairs (Defra) said.
Across England, 127 sites were originally proposed.
Dr Tim Ferrero, head of marine conservation at Hampshire and Isle of Wight Wildlife Trust, said: "None of the recommended MCZs in the Hampshire and Isle of Wight area were included in the first tranche of designations.
"We strongly ask for these important and diverse sites featuring nationally important areas of seagrasses and reefs and supporting a tremendous diversity of marine life, to be considered for designation as soon as possible."
In Dorset three other sites; Studland Bay, Broadbench to Kimmeridge Bay and an area south of Portland - were not designated as MCZs.
But Dorset Wildlife Trust (DWT) said it hoped they would be considered in the second wave.
Peter Tinsley, Living Seas manager at DWT, said in response to the news that three had been given protection: "This is great news for Dorset and a big step towards recovery of the marine environment.
"These are not no-go areas and will continue to see a variety of uses but will now be managed for the recovery and enhancement of marine habitats and species.
"It will also be beneficial for fixed gear local fisherman, as one of the outcomes will be restrictions on mobile fishing."
Related Internet Links
The BBC is not responsible for the content of external sites.