Norfolk and Suffolk county council sign pact to share services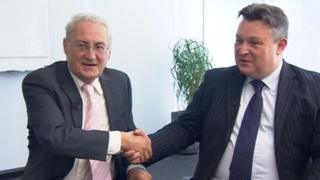 Two county councils are hoping to save millions of pounds by sharing a range of services.
Norfolk and Suffolk County Councils have signed a partnership agreement committing both authorities to working more closely together.
Potential areas of greater collaboration include health and social care and economic development.
Norfolk must save £189m over three years and Suffolk needs to cut £156m from its budget over four years.
The councils are keen to collaborate over back office and administrative functions.
Unison has said it was concerned jobs could eventually be at risk.
George Nobbs, leader of Norfolk County Council, said: "This statement of intent will be followed by action. It will mean that examining opportunities for joint working will be the norm, not the exception.
"Between us we have already identified a number of areas that look very promising, starting with further join-up between health and social care in the cross-border Waveney valley area."
Mark Bee, Leader of Suffolk County Council, said: "Local government is facing unprecedented financial challenges so it is incumbent on all of us to do everything we can to work together, cut waste and drive down costs."