85,000 approved homes still waiting to be built in east of England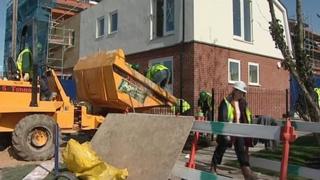 More than 85,000 homes in the east of England have been given planning permission but have not been built, a BBC investigation has found.
The 2011 Census showed the region had one of the highest population growths and councils are giving the go-ahead for new homes to cope with increases.
BBC Look East obtained the figures from councils in eight counties.
The House Builders' Association said a lack of bank finance and stringent planning conditions could be to blame.
Delayed developments
In Cambridgeshire, there are plans for 9,000 new homes on the site of the former barracks at Waterbeach.
Councillor James Hockney, from South Cambridgeshire District Council, said there was local opposition.
"We fought off the threats of the town three times before and people don't want their village to be subsumed into a town," he said.
The House Builders' Association said the figure for proposed homes in the east was particularly high compared to the rest of the country because of its proximity to London.
But it believed that applications were not being translated into houses immediately because of economic conditions and far-reaching demands on developers.
James Hulme, the association's strategic policy advisor, said: "One reason is access to development finance from banks to start building, it's still very tight and banks won't lend on housing.
"The second reason is mortgage finance is still very tight. The government's Help to Buy scheme is trying to close the gap on the lender's requirement for deposits and what people might actually have.
"Thirdly, sometimes the planning permissions are there but there are reserve matter conditions, so before the builder can start he has to cover a lot of other conditions like new regulations on drains and sewers... and regulations on any number of things on biodiversity and habitats."