Salisbury to Andover train disruption expected as track relaid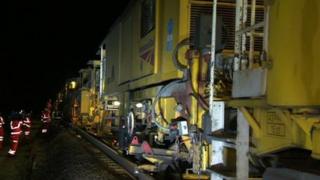 Railway passengers travelling between Salisbury and Andover are being warned of disruption on evening and late night services as the track is being relaid.
Work started overnight and is expected to last until the end of January.
Network Rail said the alternative to the overnight work would be almost a year of weekend closures.
Ben Brooks from Network Rail said: "We need to renew our assets... and this is the most efficient way to get out and do it."
The work is being carried out by a train which replaces the sleepers and rails, covering up to half a mile each night.
Passengers intending to travel after 19:50 GMT should contact National Rail Enquiries for further information on whether their service is affected.