Devon and Cornwall PCC £700k consultancy costs criticised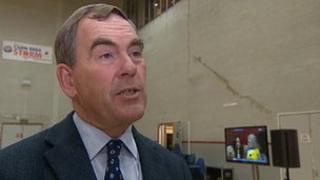 The Police and Crime Commissioner (PCC) for Devon and Cornwall has been criticised for spending nearly £700,000 on consultants and agency staff.
The figure covers the period from November 2012, when Tony Hogg took office, until March 2014.
His office said the new role necessitated using people with specific expertise "for a limited time".
But the Police Federation, which represents rank and file officers, said the "spiralling" costs were a concern.
'Short-term cost'
"We're not here to criticise [Mr Hogg] but the apparent spiralling costs of the office are concerning," chairman Nigel Rabbitts told BBC News.
"What value is it adding to the force - or is it even value for money?
"At a time when officers are under real constraints, there are some question marks... it was sold to the whole public of Devon and Cornwall as 'cost neutral'."
The details, released under the Freedom of Information Act, come at a time when frontline policing has suffered cuts, with the loss of 500 officers across the force area.
But the Office of the Police and Crime Commissioner (OPCC) has defended the use of consultants.
Chief executive Sue Howl said: "The transition between Police Authority and Office of the Police and Crime Commissioner has involved a great deal of new policy and governance work, and it was only right and proper that we brought in, for a limited time, people with specific expertise in some areas."
She said while there was neither the resources or need to create full-time roles in order for Mr Hogg to fulfil his statutory duties, extra capacity had been necessary in the period before the election and throughout 2013.
The OPCC was criticised in October when it was revealed the number of backroom staff had increased from an average of 16 under the Police Authority to 23 for the commissioner.