Norfolk and Suffolk mental health trust staff's 'scapegoat' fear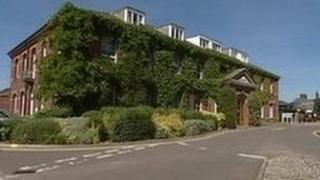 A nurse has said staff at a cash-strapped health trust fear being made a "scapegoat" for mistakes.
The whistleblower, speaking anonymously to the BBC, said staff at the Norfolk and Suffolk NHS Foundation Trust felt they would not be "supported".
The trust, which provides mental health services, needs to save £40m from its £220m annual budget over four years.
A trust spokesman said it was meeting standards set by NHS regulators and had not changed in-patient services.
In an interview with BBC Radio Suffolk, the employee, who has more than 15 years' experience, said: "If something awful happens on your shift, we don't feel we'll be supported.
"In fact, we feel we'll be the scapegoat and that the trust is going to blame individual staff more and more for mistakes or situations."
The trust, formed in 2012 following the merger of mental health services in the two counties, is yet to appoint a chief executive.
Aidan Thomas resigned in June but the trust said it had been unable to find a "strong shortlist" of candidates and was delaying recruitment until next year.
Bob Blizzard, a former Labour MP and prospective parliamentary candidate for Waveney, said: "This is clearly a trust that nobody wants to lead - it's in chaos and I fear a meltdown."
He said the budget cuts were too severe.
But Norman Lamb, a junior health minister, insisted efficiency savings were needed.
"I'm not claiming the garden's rosy, but the last [Labour] government recognised we had to achieve £20bn of efficiency savings [across the NHS] to make the money go further and we have continued that to ensure we maintain a good health service," said Mr Lamb, who is also the Liberal Democrat MP for North Norfolk.
Andrew Hopkins, the trust's interim chief executive, said: "There is a lot of talk about the trust being in crisis, but it's not a term I would use.
"We have a number of regulators which look at how we are working and we have no outstanding concerns with [them] and we are financially stable.
"We haven't changed anything to in-patient services - that's run as it always has done."