Chatsworth House decorated Devonshire family DNA tiles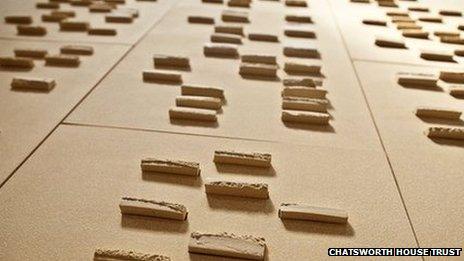 An artist has begun decorating part of the Duke and Duchess of Devonshire's home with tiles depicting their DNA.
The work by Devon-based Jacob van der Beugel will see 659 handmade ceramic panels placed in the North Sketch Gallery at Chatsworth House in Derbyshire, a spokesman said.
The 50cm by 35cm (1ft 7in by 1ft 1in) panels will cover the walls of the 20m (66ft) long gallery, he added.
The installation is due to be completed by next March.
The cream-coloured tiles in the 300-year-old property will also depict the mitochondrial DNA of Duke and Duchess's son, the Earl of Burlington, and his wife, Laura.
Mitochondrial DNA is often used for ancestry tracing as it is always inherited unmixed from the maternal line.
The participants' DNA patterns were obtained after mouth swabs were sent to the United States to be sequenced.
The 35-year-old artist, whose work has been exhibited at London's Saatchi Gallery and the Victoria and Albert Museum, said he came up with the concept after several discussions with the family.
He added that, despite it being a "logistical nightmare" getting the tiles up in the correct sequence, it was a modern day twist on a very traditional idea.
"The house is filled with portraits of previous dukes and duchesses and I thought we could make a more contemporary take on that."
The Duke and Duchess and the Chatsworth House Trust said the artist was creating "the most important art installation at Chatsworth since the creation of the 6th Duke of Devonshire's Sculpture Gallery in 1832".
The Duke of Devonshire added that "the house and its collections have been contemporary for nearly 500 years and, with this ceramic commission, it will continue to be so".
Related Internet Links
The BBC is not responsible for the content of external sites.