Parliament debates Navitus Bay coastal wind farm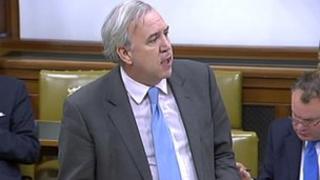 Proposals for a £3.5bn wind farm off the south coast have been discussed in Parliament.
Navitus Bay wants to build up to 218 turbines off Dorset, Hampshire and the Isle of Wight.
Robert Syms, Conservative MP for Poole, told Westminster Hall of his constituents' concern for the impact on tourism.
Developers say it will benefit residents and the area.
But Mr Syms said residents think it will be an eyesore and could increase bills for the poorest people.
He said: "Of the thousands of jobs that rely on tourism, there will not be that many which are generated by this particular proposal once it's built.
"Certainly there will be some people who have to maintain this wind farm, but on the whole, this is not a heavy employer."
Project manager Mike Unsworth said the company had always been "open and honest" about the plans and provided "comprehensive information about the project".
Size reduced
The proposal has been criticised for its proximity to two Areas of Outstanding Natural Beauty and the New Forest National Park.
Navitus Bay made changes to the plans, including reducing the number of turbines from 333 to 218, in December last year.
The maximum height of the turbines was also changed from 210m (690ft) to 200m (655ft).
Mr Unsworth has indicated that the wind farm could be scaled back again, depending on the outcome of a public consultation which ended last month and discussions with Natural England.
Campaign group Challenge Navitus said the wind farm is "too large and in a wholly inappropriate location".
The group is also concerned about its impact on marine life and coastal habitats, in addition to possible noise and light pollution.
Navitus Bay said the wind farm would create 2,000 jobs during construction and 200 long-term jobs in operations and maintenance.
A planning application is expected to be submitted in March next year.
If approved, construction is expected to start in July 2015.