West Midlands Fire Service training base sale considered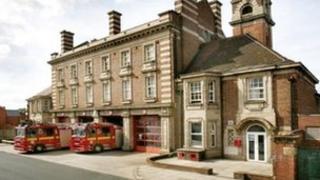 A fire service training base in the West Midlands could be sold or rented out.
The fire and rescue authority is meeting on Monday to discuss the proposal to shut the training base in Smethwick.
Chief fire officer Phil Loach said firefighters would "do more training in the communities they serve".
A union said the training base cut could lead to "inadequate training" and put people "at risk".
Plans to rebuild stations in Aston, Kings Norton, Coventry and Bickenhill are also being considered.
Mr Loach said: "We've carried out a strategic assessment of our sites and buildings, to ensure they're as well-located, efficient and fit for a modern fire and rescue service as possible."
He added that by training in the local communities, firefighters would be able to "respond to local emergencies should the need arise".
'Financial challenges'
The service has already made savings of £16.2m since 2011. The total is about 20% of the brigade's budget.
Councillor John Edwards, authority chairman, said the service had faced "huge financial challenges".
"Much of what is proposed would be funded by selling or leasing existing premises and by maximising the gains we're already achieving through environmental and energy improvements," he said.
Rebuilding Aston, the brigade's oldest fire station, built in 1924, has been proposed "with options to consider its relocation closer to the city and a main road" to optimise emergency response times.
Kings Norton fire station, built in 1930, should also be replaced with a new building in the same area as the current one to optimise response times, it is suggested.
Other recommendations to be considered by authority members include demolishing Coventry Fire Station and the building at Bickenhill and replacing them on the same sites.
Steve Price-Hunt, West Midlands Fire Brigades Union chairman, said the training base plans could lead to "inadequate training which could put the fire crews and the public at risk".
"The Fire Brigades Union believes that an essential dedicated location with personnel dedicated to training has been [here] in the past and should remain in the future," he said.
"All of the closures and scaling down of the facilities, fire engines, firefighters within the West Midlands [are] all directly caused by the current government's slashing of the fire and rescue service.
"We are already down to the bare bone and if these cuts continue, public and fire crews' safety will be at risk."