Norfolk PCC Stephen Bett's finance officer candidate faces police panel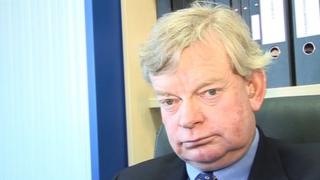 A candidate to be Norfolk's police and crime commissioner's new chief finance officer will be scrutinised by a council panel this week.
Candidate John Hummerson held a similar post in Cambridgeshire.
PCC Stephen Bett, whose own expenses were recently under scrutiny, is responsible for the county police budget of £147m.
Mr Hummerson is applying for the part-time job at a pro rata salary of up to £77,600.
Mr Bett declined to comment on the appointment before the panel meets.
The commissioner will face the panel on Monday, along with Mr Hummerson, to explain the role of the new chief finance officer to replace Bob Summers who retired earlier this year.
"He will comment on why he thinks the proposed candidate should be appointed," a spokesperson for the panel said.
"Mr Hummerson, who will work a three-day week, will answer questions relating to the appointment, his competence and independence."
'Kamikaze move'
The PCC will be informed of the panel's recommendation the following day.
"The commissioner then may accept or reject the panel's recommendation," the spokesperson said.
The panel normally releases details of their decisions five working days after the meeting.
Mr Bett's expenses were questioned by an independent chartered account after he claimed more than £3,000 for driving between his home and the official police headquarters.
He claimed for 70 trips from his home in north-west Norfolk to the offices in Wymondham but will pay back the money.
He said he had done nothing wrong but would return the money so that the controversy would not "tarnish the reputation of policing in Norfolk".
Richard Murphy, a chartered accountant and economist, said the claims were not tax-allowable and could not be justified.
Jon Harvey, a Labour town councillor in Buckingham and a blogger on PCCs, said he was "stunned and surprised" at Mr Bett's mileage claims and described them as a "kamikaze move".