M5 death crash: 'Firework smoke blocked drivers' view'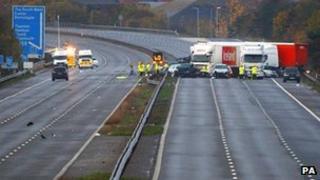 Smoke from a fireworks display helped block the view of drivers on the M5 motorway leading to a pile-up that killed seven people, a court has heard.
There were "serious weaknesses" in the planning of the display on 4 November 2011, Bristol Crown Court was told.
Geoffrey Counsell, 51, from Ashill, Somerset, was operating the fireworks at Taunton Rugby Club, Somerset, 200m (650ft) from the motorway.
Mr Counsell denies failing to ensure the safety of others.
The court was told Mr Counsell set off 1,500 shots in 15 minutes.
'No ordinary fog'
The smog was so thick and dense that motorists on the northbound carriageway of the M5 had "no chance", it was alleged.
Peter Blair QC, prosecuting, told the jury it was "no ordinary patch of fog that just happened to be there that evening".
"Essentially the prosecution say they experienced a loss of visibility, generated, we say, by a plume of smoke created by Mr Counsell from his firework display which had built up," he said.
"It was not dispersed because of the lack of wind mixed with the humid air and drifted in the direction of the motorway."
Mr Blair said a number of vehicles passed safely through the early stages of the smog - with some drivers later recalling the smell of firework smoke but the "next group were less fortunate".
"They were in the vehicles that ended up in a multi-vehicle pile-up," he said.
"Some of them spoke of it as being as if someone had tipped a tin of paint over their windscreen.
"Their headlights had no effect whatsoever on penetrating what was in front of them.
"It was impossible to see what was ahead of them and the inevitable consequence was the multiple pile-up."
Lorry drivers Terry Brice, from Patchway, South Gloucestershire, and Kye Thomas, from Gunnislake, Cornwall, died in the crash.
Father and daughter Michael and Maggie Barton, from Windsor, Berkshire, grandparents Anthony and Pamela Adams, from Newport, south Wales, and battle re-enactor Malcolm Beacham, from Woolavington, near Bridgwater, Somerset, also died.
The case continues.