Typhoon Haiyan aid flight going from East Midlands Airport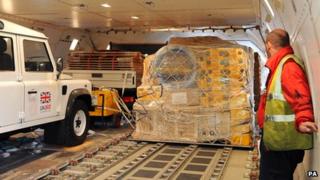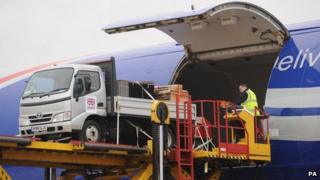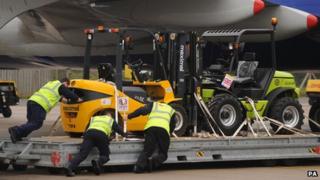 A civilian relief flight to help victims of Typhoon Haiyan has left the UK from East Midlands Airport, the government has confirmed.
More than 3,600 people have died and 500,000 left homeless by the typhoon in the Philippines.
International Development Secretary Justine Greening, said the flight had 95 tons of supplies on board.
HMS Daring has arrived in the region to provide medical assistance, emergency supplies and clean water.
Funds raised
Ms Greening said: "This latest flight will be full of medical supplies, water tankers and forklifts to get aid moving and help clear bottlenecks at the airports.
"The British people have shown huge generosity over the past days, and DFID is working with charities to make sure all their donations get to those who need it most."
In Leicestershire, where the airport is located, people who lost relatives in the typhoon have been raising funds to help survivors.
Maribel Dacumos, who attended the Leicestershire Filipino Society event, said two of her family are dead and one is still missing.
She said: "My uncle in Samar, I found out two days ago that he is dead. A cousin, Grace, is dead as well.
"One of my aunties is missing. Up to now we don't know what's happened to her. I'm still hoping she's alive."
Merybell Smith, the event's organiser, said they had raised £5,800.
"Within a week we got so much food, so many people donating things, food, money, it's fantastic."