Transporter causes 13-mile tailback on M4 in Wiltshire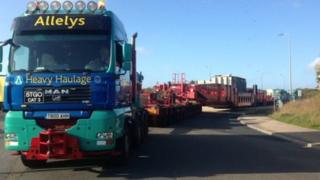 The transportation of a large power station transformer along the M4 has caused tailbacks about 13 miles (20km) long on the westbound carriageway.
Drivers had been warned of "severe disruptions" while the 637-tonne load was moved from a power station in Oxfordshire to Bristol.
The 294ft (89m) long transporter was being escorted by Wiltshire Police from junctions 14 to 18 on Saturday.
A police spokesman said there was "substantial congestion".
The load was expected to arrive at Junction 18 by 16:00 GMT, after which it was due to travel along the A46 where it was again expected to cause "significant delays".
Heading for Germany
The spokesman said: "Police vehicles will need to ensure the road and traffic ahead is managed to ensure there is no conflict with the load.
"There are only a few locations where traffic can pass the load. Police are asking motorists to avoid the area at this time and plan alternative travel routes."
The transporter is travelling at a maximum of 10mph from Didcot power station to Avonmouth Docks.
After its arrival in Bristol, the transformer will be transported by sea to a Siemens plant in Germany.
The generator transformer is the second of three being removed from Didcot power station as part of its decommissioning programme.
The first was moved at the beginning of the month.
Didcot, a coal fired power station, was disconnected from the National Grid in March after 43 years of service.