Kent and Surrey M25 closures as widening work continues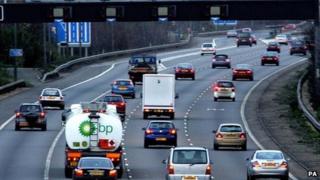 Further closures have been put in place on the M25 as widening work on the Kent and Surrey section continues.
The anti-clockwise carriageway between junction six at Godstone and five at Sevenoaks was closed between 22:00 GMT and 06:00 GMT.
It was to allow gantries and overhead signs to be installed for variable speed limits warnings. The road is also being widened to four lanes.
A further closure is planned on the same carriageway on 23 November.
The clockwise carriageway is to be closed overnight on 30 November between junction six and seven at Reigate.
The Highways Agency said temporary rolling roadblocks may also be in place on the opposite carriageways.
The variable limits are expected to be in force by next month.