Comedian Eddie Large in hospital after road sign fall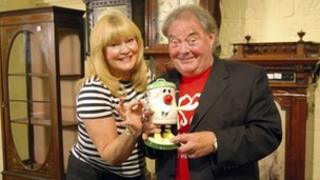 Comedian Eddie Large is recovering in hospital after a serious fall near his home.
The comedian, famous for his double act with Syd Little, tripped over a road sign close to his home in Portishead, near Bristol.
He was taken to hospital but contracted pneumonia, had pancreatic problems and a collapsed lung.
After time in a high dependency unit, he hopes to leave hospital in Bristol next week to continue his recovery.
'Shaken me up'
In an interview with the Daily Mirror, Mr Large, whose real name is Hugh McGinnis, said he fell over the road sign a few weeks ago and cracked some ribs.
"I was in critical care for a week and I was in a high dependency unit for another week," he said.
"It was scary and its really shaken me up."
Mr Large was born in Glasgow but grew up in Manchester and is a Manchester City fan.
He formed double act Little and Large with Syd Little in 1963. They went on to win Opportunity Knocks and had a long-running comedy sketch show on BBC One in the 1970s and 80s.
Former Manchester City physiotherapist Roy Bailey posted a message on Twitter that said: "Tweeting all Blues Eddie Large is poorly/unwell in Hospital Bristol.
"Please send him your support it will help him thanks."
Mr Large has been treated at the Bristol Royal Infirmary.
A spokeswoman for the University Hospitals Bristol NHS Foundation Trust said: "He's recovering well."