Convicted murderer John Murch on run after Kent escape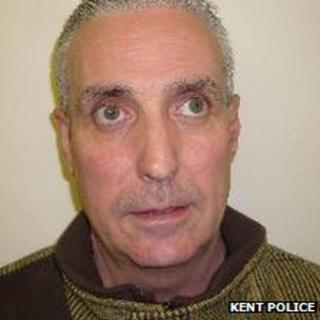 A convicted murderer has been on the run for more than two months after he was admitted to hospital but then absconded, it has emerged.
The Metropolitan Police revealed John Murch, 52, was a killer after reported sightings of him in south-west London.
He was serving a life term for killing a Liverpool man and was at Standford Hill Category D open prison on Sheppey.
He was admitted to hospital in Medway in Kent on 31 August with chest pains, but absconded the next day.
Kent Police made an appeal for information about his whereabouts in September, but did not mention that Murch was a killer.
Explaining why Kent Police did not reveal Murch's conviction, a spokeswoman for the force said: "It was made clear at the time that any known links Murch had were with the London and Liverpool areas and he is most likely to have gone there.
"The offence for which he was jailed was a single historic murder of a man in Liverpool, back in 1981.
"For that reason, he is not now deemed a risk to the public in Kent."
'Houses searched'
She said when absconders posed a genuine threat to the public, Kent Police would seek to inform them as soon as possible.
She also said Murch's placement in an open prison would have been deemed appropriate by the prison service, following risk assessments.
Uniformed officers searched addresses after Murch absconded and then made a public appeal on 13 September, she added.
A Prison Service spokesman said: "This is now a matter for the police and we are supporting them in their investigation."
He said the number of prisoners in open conditions who absconded in 2012-13 was the second lowest since records began, and all those in open prisons had been rigorously risk-assessed.
"Anyone who does abscond or fail to return will be moved to a closed prison and may face further criminal charges," he added.
On Friday, the Metropolitan Police said Murch was not currently considered to be a threat to the public after sightings of him were reported in the Richmond area.
But a spokesman advised people not to approach him and to call 999 immediately if they did see him.
Officers said Murch was known to wear a flat cap and dark pin-striped suit.
He was described as about 6ft (1.8m), with medium build, grey/brown hair and hazel eyes, and a tattoo on his right arm saying "Liverpool FC Liver Bird".
Anyone with information that could help police find him should contact either the Kent or London police forces or Crimestoppers.