M40 Hagley school deaths: 'I had an instinct something was not right'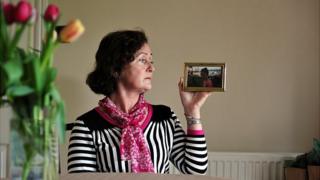 The monotony of a night shift at a Yorkshire tumble dryer factory was broken by news of a crash on the M40. The radio said it was the "worst ever" crash involving children in UK history. I scoffed at this - surely every road death is the "worst crash" for those affected. A few hours later I learned one of the dead children was my cousin Claire.
And here we are, 20 years on since 12 children and their teacher died when their vehicle struck a stationary maintenance truck.
The group from Hagley Roman Catholic High School in Worcestershire had been at the Royal Albert Hall for a concert.
They crashed on the return journey, near Warwick. Just two pupils would survive the accident.
Some of the families who lost children who had been on the school trip declare an unusual relationship with time.
They tell of an indelible line drawn thick across their lives which splits all that came "before the accident" from all that follows.
They also tell of a duality, in which time has both moved on - they have aged, their other children have grown up, things have happened - and yet remains utterly still.
Justine Clark's 12-year-old daughter Ruth was an avid reader, animal-lover and a keen netball player and cross-country runner.
"She was a joy from the word go," said Ms Clark.
"She expressed from a very young age that she wanted to be a vet."
On the night of the crash, Ms Clark said she had "an instinct that something was not right".
"In those early years, I'm not sure I was aware of the seasons. I was on autopilot and you exist, I'm not sure how much living I did.
"But I was very concerned for Ruth's [two younger] brothers and I would use all my strength and emotional energy to allow them to think that Mum is okay. And then I would have my own private time where the tears would come in bucketfuls.
"My faith has helped me hugely and I have accepted that Ruth's life was meant to have been short and that what I had with her I've really treasured."
Treasured too, was my cousin Claire Fitzgerald, who was 13 when she died.
Her mother, Liz, tells of a "very strong character" who was also "very much a teenager", "with her own opinions", a keen sense of "fairness" and a "brilliant mind".
A keen musician, Claire found the best acoustics in the house were at the bottom of the stairs, which meant her mother, father Steve and younger sister Sarah, were barred from using the stairs during violin or clarinet practice.
Mrs Fitzgerald, who went to the school to collect Claire, says she knew something was wrong when she saw the second minibus arrive, but failed to stop where it was supposed to.
"A senior member of staff came over and knocked on the window and said there had been a bit of a delay and would we please come into the school."
She then learned there had been an accident in which people had died and that the police wanted to take them to Warwick Hospital.
"I expected Claire to have been involved in it but she was a big strong girl and I thought she would have survived."
"A priest came and sat with us and told us 'I am very sorry to tell you Claire is not one of those who has survived', which was a very, very kind way of saying it.
"I looked at Steve's face, which was excruciating. We turned into one another and we were completely stunned.
"I stood up and I had this most almighty pain from under my neck down to my knees, as though somebody had ripped part of me away. That remained with me for months.
"I can remember so distinctly the fact that it had become dawn as we were driving [home], and all I wanted to do was shut out the light and I didn't want another day to start."
But those days did start, and 20 years on Mr and Mrs Fitzgerald have, in their words, "woven the reality of the crash" into their lives.
"We've found strategies to cope with situations that could potentially be difficult," said Mrs Fitzgerald.
"But what we've really had is support from people who have helped in sometimes little ways but who have in fact made life tolerable and made life worth living."
Friends of the children who died, too, have found themselves "weaving the reality of what happened" into their lives.
One, who knew all of those who died but asked not to be named, described feeling a sense of "guilt" at being alive for a long time after the accident.
She said her behaviour changed in response to the deaths, becoming rebellious in school.
And of course there were the teachers who had to break the news to their form groups and look out over empty seats.
Trish Wood was the form tutor and French teacher to nine of the children.
"They were absolutely gorgeous," she said.
"They were bubbly, happy children."
Miss Wood, who continues to teach in the same room as she did 20 years ago, said seeing the list of the dead was "horrendous".
She then had to inform the children in class what had happened.
"We kept the names on the registers. It was more than difficult to read down the register.
"Throughout the year, we're never forgetting them. I talk about them a lot to people outside of the school.
"One or two people tell me that I've never been the same. It is hard to know what to say to that."
And just a week before the Hagley deaths, Miss Wood's tutor group had prayed for a nursery school teacher who died with her three children in a car crash.
"We as a tutor group had prayed for them and said how awful that must be for them and their family.
"They had been sad about that."