Cornwall Farmers announces £2.3m investment scheme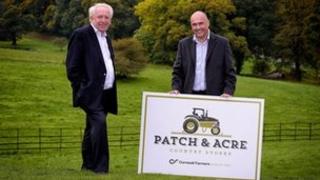 A co-operative that provides rural communities across Devon and Cornwall with farming supplies has unveiled a £2.3m investment programme.
Cornwall Farmers will spend the money on upgrading its network of stores and increasing its services and products in a bid to appeal to more customers.
The farmer-owned co-operative has been trading for more than 90 years and employs 200 people.
It specialises in farming and pet supplies and equestrian products.
The £2.3m includes a £920,000 grant from the Local Enterprise Partnership, through the Government's Business Catalyst Fund, which help businesses expand.
'New store concept'
Chris Pomfret, chairman of the Cornwall and Isles of Scilly Local Enterprise Partnership, says the investment "will help accelerate the co-operative's modernisation programme, create and protect jobs and boost productivity in the agricultural sector".
As part of its growth plans, Cornwall Farmers said it would be investing in its country stores and introducing a "new store concept" under the name of Patch & Acre Country Stores.
Simon Birch, chief executive of Cornwall Farmers, said: "It will allow us to better serve our heartland agricultural customer base while appealing to new groups of customers who love the countryside but might not have tried us before."
The first store to undergo the Patch & Acre transformation will be the Cornwall Farmers Penzance store, which is having a £300,000 upgrade.
Cornwall Farmers is owned by over 4,200 members, with 12 country stores throughout Devon and Cornwall.