Southeastern train franchise extended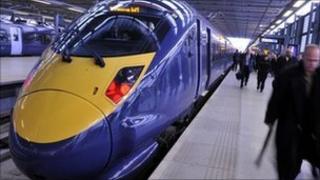 A rail company which provides services between Kent, East Sussex and London has had its franchise extended.
Southeastern services include high-speed trains between Dover and St Pancras.
The franchise has been extended by six months to October 2014 and Southeastern says it could bid for a further four-year contract.
The tendering process was revised following the West Coast franchise fiasco last year.
Between October 2014 and 2018 work being carried out at London Bridge station will significantly affect train services from Kent and Sussex into the capital.
In June 2018 a new franchise awarded by the Department of Transport (DfT) will start on the routes.
In 2012 the award of the West Coast franchise was scrapped with an official report blaming a "damning failure" by the DfT.
FirstGroup was told it had won the bid in August 2012, but the decision was scrapped by the government, at a cost of at least £40m.
The mistakes came to light after bidder Virgin Trains, which had run the West Coast Mainline since 1997, launched a legal challenge against the decision.