BBC poll: Crime commissioners still lack public profile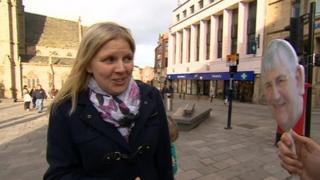 Their reigns started with more of a whimper than a bang.
A confused and disinterested public largely stayed at home last November as the country's police and crime commissioners were elected with a turnout of around 15%.
They have now had a year to establish themselves but has their public profile improved from such a shaky start?
BBC research
When I went into Durham city centre brandishing a picture of local commissioner Ron Hogg there were certainly some baffled faces.
Some had no clue, others grasped he had something to do with politics. Only a couple of people recognised him as the commissioner - none could recall his name.
And research carried out by Comres for the BBC suggests that's all too common.
Although two-thirds of people polled in the North knew they had a commissioner, only 5% could name him or her.
It's something Ron Hogg says he is addressing. I followed him on one of his regular high street walkabouts in Chester-le-Street.
As he pressed the flesh and distributed leaflets, there was some more bafflement from members of the public, but some did also recognise him.
But he admits he and other commissioners are still far from household names.
He said: "It does worry me a bit because clearly if I am going to do the job I want to do, the more people who know what I am doing and how to get in contact with me the better.
"That's why events like a walkabout are so important. In my policing plan I have community engagement as a key priority."
Leaked expenses
Generating publicity can be a mixed blessing though.
Cumbria's commissioner Richard Rhodes hit the national headlines when details of his expenses were leaked.
He apologised and repaid the £700 spent on two chauffeur-driven limo journeys to meetings.
But the row rumbled on with a number of people arrested over the alleged leaking of the expenses claims. They won't now be charged, and Richard Rhodes has survived the fall-out.
And the Cumbrian commissioner believes neither he nor the office have been tarnished.
He said: "To be quite honest only once in 60 meetings has the expenses issue been raised.
"When I talk to people face-to-face they are interested in why eggs are being thrown at their front door, why is someone speeding past my house, why are people drunk on the streets on a Friday night instead of something that happened 10 months ago."
Opinion in the Comres survey though is mixed on the effectiveness of commissioners. 42% of those surveyed in the North thought they had made a positive difference to policing, but 34% thought they'd made no difference, and 8% thought the impact was negative.
More accountable
Mike Tonge, an ex-Chief Constable who now lectures in policing at the University of Cumbria, believes commissioners have more work to do.
He said: "This is a completely new role so they are having to learn on the job. We have some good examples where they have engaged with the public and taken the views of victims and tried to get the police to be more accountable.
"In other areas that has been less significant and the jury is still out on whether they are being effective or not."
Some though have already made their minds up. Former Newcastle Council leader Lord Jeremy Beecham opposed commissioners from the start, and he's convinced he's been proved right.
He said: "I'm afraid all my fears are being realised. We have far too much power concentrated in a single pair of hands in 43 police authorities throughout the country without any real accountability.
"In the North East we have three commissioners nominally responsible for an area stretching from the Tweed to the Tees. It's ridiculous."
Police and crime commissioners undoubtedly still have their critics then. But they do have time on their side. They have until the next election in May 2016 to make an impact and prove the doubters wrong.