Stansted security alert: Passenger 'did not hear bomb threat'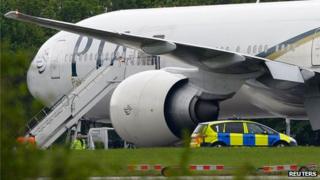 A woman who was on a plane that was diverted after two passengers allegedly threatened to blow it up has told a court she heard nothing "that might suggest the presence of a bomb".
Tayyab Subhani and Mohammed Safdar were arrested after the Boeing 777 made an emergency landing at Stansted Airport.
The pair, from Nelson, Lancashire, deny endangering the safety of an aircraft.
Ferzana Rana told Chelmsford Crown Court some passengers believed it was a "trivial incident".
The court heard neither man was a "terrorist" or an "extremist".
Prosecutor Brian O'Neill QC told jurors that two RAF fighter jets escorted the Pakistan Airlines flight PK709 to Essex after the defendants made threats to kill members of the cabin crew and passengers and blow up the plane at 30,000ft (9,000m).
He said neither man was capable of carrying out the threats but the claim was made deliberately and the pilot had no option but to take it seriously.
Passenger Ferzana Rana told the court Mr Safdar had behaved idiotically, but she had not felt threatened or intimidated.
'Idiotic remark'
She said that once on the ground, many of the passengers expressed annoyance that the flight, from Lahore to Manchester, had been diverted over a "trivial incident".
Mrs Rana told the court that the first reference she heard to a bomb came when an announcement was made informing passengers that the flight had been diverted.
She said: "I heard the men say jokingly between themselves 'I bet they think there's a bomb on the plane'."
During the flight on 24 May, Mr Safdar became abusive towards cabin crew and refused to return to his seat, she said.
Mrs Rana said at one point Mr Safdar, who was returning from his mother's funeral, told a steward "I'm going to kill you" twice in Urdu.
Asked by Simon Mayo QC, representing Mr Safdar, if the steward had taken the remarks seriously, she said: "No, it was just an idiotic remark."
She added: "Later on, the steward asked me to confirm what I had heard and asked me whether I had heard the word bomb.
"I hadn't heard that word or anything that might suggest the presence of a bomb."
She said Mr Subhani had encouraged Mr Safdar, but had not behaved in an abusive manner.
Mr Safdar 42, of Hallam Crescent, and Mr Subhani, 30, of Townley Street, claim the allegations are made up and that cabin crew encouraged passengers to corroborate their story.
The trial continues.