Morecambe Bay's £1.9m tourism plan after lottery funding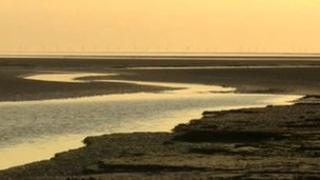 The organisation that promotes natural habitats and historic sites around Morecambe Bay has received £1.9m from the Heritage Lottery Fund.
The Morecambe Bay Partnership will use the money for the Headlands to Headspace scheme, aimed at encouraging people to explore the bay.
A cycleway, stretching 124 miles (200km) from Glasson Dock in Lancashire to Walney in Cumbria, will be created.
There will also be an oral history project examining fishing communities.
Susannah Bleakley from the partnership said: "We want more people to find out about the bay's heritage and get involved in celebrating it and looking after it.
"There's lots of projects for people to get involved in - community archaeology projects and oral history projects to capture the reminiscences and the stories of the people of the bay."
Sara Hilton from the Heritage Lottery Fund said: "We are committed to supporting projects such as this one in Morecambe Bay as they bring together both community groups and public bodies with a shared passion of caring for our environment."
Morecambe Bay is the largest intertidal area in the UK where four estuaries join in a horseshoe-shaped bay.
Work on the five-year scheme will start early next year.