Slurry man David Truscott moved from mental health unit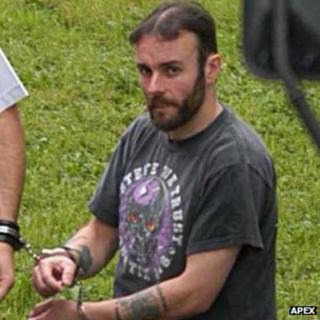 A man with a cow slurry fetish has been transferred from a mental health hospital to prison.
David Truscott, 44, was moved by a judge at Exeter Crown Court after a doctor's report on his condition.
But he must wait for a further specialist examination before he is sentenced next year.
Truscott, formerly of Camborne, Cornwall, has admitted threatening to kill Redruth farmer Clive Roth and his family.
Rolling naked
He has also admitted threatening to destroy their property.
Truscott, who is autistic, was jailed in 2009 and 2011 for breaching restraining orders, going on to the Roths' land and rolling naked in slurry.
The family took out a restraining order against him after he repeatedly trespassed and indulged his fetish for cow slurry.
The latest offences were committed at the farm last year.
Truscott has been under assessment by consultant forensic psychiatrist Dr Keith Darnley at the Langdon Hospital in Dawlish since the threats.
Judge Francis Gilbert at Exeter Crown Court said after reading a report from Dr Darnley that it was "right he should return to prison so his place at the hospital can be taken by someone who needs it".
The judge ordered that Truscott be transferred to Exeter Prison to await sentence at Exeter Crown Court next year.
He said that Truscott could be sent to a mental health hospital or jail, depending on the results of the further examination.
Julia Cox, defending, said the report indicated that some of Truscott's problems arose from his being autistic.