Hamzah Khan serious case review: 'Red flag' plea over child safety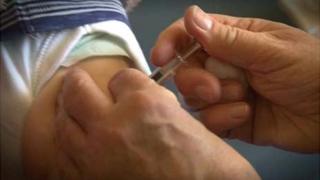 The death of four-year-old Hamzah Khan went unnoticed by the outside world for two years because his short life barely registered in official circles.
The serious case review into his death has prompted the NSPCC to call on health officials to raise a red flag when children miss key appointments so other youngsters do not "slip off the radar of society".
The NSPCC said that Hamzah "became invisible" on leaving hospital after he was born.
After his birth on 17 June 2005, he was seen by a midwife a week later and a health visitor a fortnight after that - but that appointment was the last time he was seen by a health professional.
He missed a series of appointments at hospital, with health visitors and GPs and he did not receive routine immunisations.
'Became invisible'
Peter Wanless, chief executive of the NSPCC, said: "Tragically, Hamzah became invisible, slipping off the radar of our entire society the moment he left hospital after birth.
"His mother made no attempt to register his birth; he missed midwife appointments, health visitor checks, immunisations; and he was never registered for school.
"A red flag must be raised when key appointments are missed so that children cannot disappear.
"It cannot be right that the first time someone took serious steps to track him down was six years after his birth, by which time he was already dead."
The NSPCC's head of policy, David Tucker, said: "I have never heard before in any serious case review of a child being so completely lost.
"He had dropped completely off the radar.
"I wouldn't want to say that just because this is the only such case we know of that there are not others.
"The potential for other children to be missing off the radar does seem to still be there."
'Be braver'
Dame Clare Tickell, chief executive at charity Action for Children, said: "Children at risk of dying at the hands of their parents are crying out for help but they aren't being heard.
"More support for professionals who work with neglected children is vital; they must be allowed to trust their instincts and escalate their concerns.
"Social workers, teachers and police officers have told us about the barriers they face when they want to help a child who they suspect is being neglected.
"It seems that people are so afraid of doing the wrong thing they don't do anything, which adds up to a systemic failure to protect the most vulnerable.
"We all need to be allowed to be braver; to push harder by being persistent and take action to protect children, or child neglect will continue to have devastating effects."
Annie Hudson, chief executive of the College of Social Work, said: "The Hamzah Khan serious case review brings into sharp focus why there must be strong, joined-up and effective systems in place to keep in contact with, and track, children at risk.
"No child should ever fall off the radar or become invisible, to child protection agencies and society as a whole.
"Several key issues stand out. The report demonstrates powerfully the paramount need to keep sight of children who may be suffering neglect or abuse; the needs of vulnerable parents must never obscure focus on knowing what life is like for children.
"Talking and listening to them, as well as observing how their lives are affected, is an essential element of child protection practice.
"This is a harrowing and distressing report which social workers and others involved in child protection must and will learn from."