Firefighters walk out in pensions row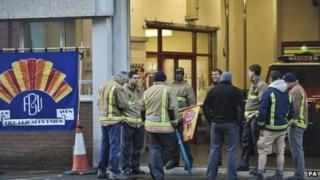 Firefighters in England and Wales have gone on strike for the fourth time in a row over pensions.
Fire Brigades Union (FBU) members walked out at 10:00 GMT for four hours, forcing brigades to use contingency plans, including hiring contractors.
It said firefighters forced to retire before 60 due to declining fitness could now receive about £9,000 a year.
Fire minister Brandon Lewis said firefighters would still get "generous" pensions.
Previous government proposals on pensions were withdrawn because of the failure to reach agreement, and the FBU said the coalition planned to "punish" firefighters who are forced to retire at 55.
General secretary Matt Wrack said: "After 35 years of service, and paying at least £4,000 a year, firefighters could now receive just over £9,000 a year or the sack simply because fitness declines as they get older.
"Firefighters simply want an affordable and workable pension that reflects the job we do."
Mr Lewis said: "The FBU's fourth strike day contradicts its claims to want to resolve this dispute through negotiation and further damages the good reputation of firefighters with the public.
"Firefighters will still get one of the most generous public pension schemes.
"Less than a quarter of firefighters will see any change in their retirement age in 2015 and more firefighters' pensions are protected than in any other large public service workforce."