Facebook groomer Gareth Oliver jailed over 300-mile abuse attempt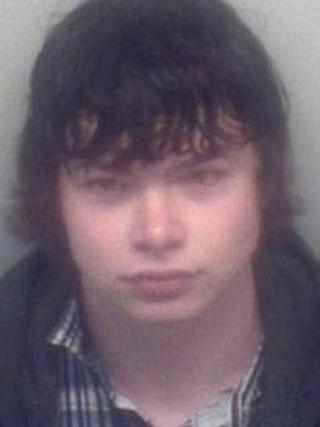 A man who travelled over 300 miles in an attempt to abuse two boys he groomed online has been jailed for six years.
Gareth Oliver, 21, of Shield Street, Newcastle messaged the boys, aged 12 and 13, via Facebook and text under the name "Wolfie" to gain their trust.
He travelled to Gillingham, Kent, but was stopped from camping with the boys when a parent became suspicious.
Oliver was found guilty at Maidstone Crown Court of two counts of meeting a child following sexual grooming.
He was also found to have violated the terms of a licence not to contact children, following a previous conviction for sex offences in 2007.
Oliver initially met the boys on 14 March 2012, the day after he travelled by coach from Newcastle, saying he was camping in the area.
'Very dangerous individual'
He agreed to let one of them stay with him, but the meeting did not take place because a parent became suspicious and located Oliver at Luton Recreation Ground in Chatham.
A Kent Police spokesman said when officers arrested Oliver, they discovered nine condoms in his jacket.
He said Oliver had claimed he travelled the long distance to "meet children for fun and to go BMX riding" - but had actually intended to abuse the boys.
Det Con Jason Lynch said the 21-year-old posed a "significant threat to children".
"He used the internet and text messages to gain the trust of two young boys, before spending money from his jobseeker's allowance to travel seven hours on a coach with the intention of abusing them.
"This was premeditated sexual grooming by a very dangerous individual."
Oliver was told he would be on licence for a further three years at the end of the sentence.
He was ordered to sign the sex offenders register and a sexual offences prevention order was made. Both conditions will run indefinitely.