'No excuse' for councils on housing says minister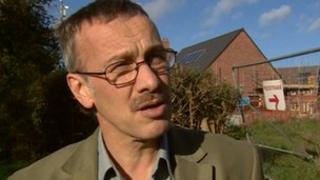 Planning minister Nick Boles MP was in no mood to mince his words when I caught up with him on the Smith's Wood housing estate in Solihull the other day.
Councils had "no excuse", he told me, for not having their plans in place for their share of the extra homes that needed to be built in order to meet our chronic shortage of affordable housing.
"They need to get on with it," he said.
It could not have been a clearer signal of the government's determination to press ahead with their controversial relaxation of planning regulations in order to accelerate house building.
This is despite press speculation that as many as 30 Conservative backbenchers may be prepared to defy ministers over their controversial National Planning Framework (NPF), dubbed "a developer's charter" by its critics.
The NPF comes into the reckoning when local authorities fail to agree a plan for the required number of houses in their area.
'Brown fields are fantastic'
If the National Planning Inspectorate consider a local plan to be inadequate, they have powers to intervene over the heads of the locally-elected decision-makers.
Take the village of Gnosall in Staffordshire for example. The Stafford Plan envisages 600 new houses in 12 key service villages over 20 years. But, the planning inspector ruled that Gnosall did not have a five-year supply of housing.
Standing beside a new development of houses being built out into the fields bordering the village, the independent planning consultant Gerald Kells told me the government had promised the new regulations would be "planning-led". In practice, he warned, too much of the new housing was being built "ad hoc" by developers stampeding into the prime sites, usually green fields.
But the newly-appointed shadow housing minister Emma Reynolds showed me what can be done, on a brown field site in her Wolverhampton North East constituency.
Akron Gate is a development of 300 new homes in an area which used to be part of the Goodyear tyre factory.
Emma Reynolds told me the whole project had gone through planning with no more than a handful of objections.
"Brown fields are fantastic," she said. Especially given her stated aim that a Labour government would double the present rate of house-building.
Meantime, the Conservative MP Caroline Spelman has been showing me another way of easing the pressure for housing developments in our cherished green spaces - her Meriden constituency might be renamed "Meriden Gap", so determined is Mrs Spelman to protect what remains of the open countryside between Birmingham and Coventry.
'People power'
Her constituency is home to one of the most ambitious housing regeneration projects ever seen.
She told me the £150m partnership between the Solihull Community Housing Association, Solihull Council and British Gas was creating new homes, rehabilitating old ones and delivering new jobs in an area that desperately needed all three.
But the umbrella organisation representing social landlords, including housing associations, warns that there can still be no substitute for a step-change in house-building, given the severity of the social crisis caused by the shortage of affordable accommodation.
Gemma Duggan, from the National Housing Federation, told me the most vehement opponents of new housing in their back yards were often the same people who complained that their children could not afford to get started in the property market.
The federation is campaigning for local authorities to "Say Yes To Homes".
No wonder this housing crisis has proved to be such an intractable problem for successive governments.
Labour proposed "eco-towns", including 6,000 new homes to be built in a development named Middle Quinton by the developers in the Warwickshire countryside outside Stratford-upon-Avon.
A determined display of "people power" saw thousands of protesters marching through the countryside and the whole idea was dropped.
Labour's other Big Idea, the Regional Spatial Strategy envisaged nearly 400,000 new homes to be built right across the West Midlands.
But that plan was scrapped by the incoming coalition government.
In its place comes, you've got it, the National Planning Framework.
This tale of missed objectives, climb-downs, u-turns and ministerial reverses may have a way to go yet.
For governments past, present and, perhaps, future, finding a plan to deliver affordable housing where it is most needed without igniting a firestorm of protest is the political equivalent of the Holy Grail.