RSPB says birds of prey poisoned by banned pesticide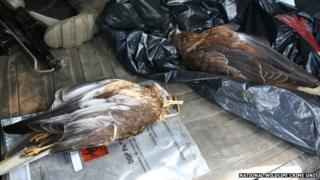 The Royal Society for the Protection of Birds (RSPB) says tests confirmed that birds of prey found dead earlier this year had eaten a banned pesticide.
A breeding pair of marsh harriers was discovered at the Nene Washes Nature Reserve in Cambridgeshire, while a red kite was found at Old Leake near Boston in Lincolnshire.
Investigators found they had ingested the banned substance Aldicarb.
Police forces in both counties said they were appealing for information.
The toxicology tests were carried out by the government's Wildlife Incident Investigation Scheme after the birds were found in the spring.
The RSPB said the dead animals "most probably" ate bait laced with the poison.
'Sickening'
Mark Thomas, RSPB senior investigations officer, said: "These are tragic and completely mindless acts of wildlife vandalism.
"East Anglia was the primary location where the marsh harrier recovered from near extinction some 40 years ago, so to think that a breeding pair has been wiped out is sickening.
"The widely-sought introduction of custodial offences for the possession of banned pesticides like Aldicarb could happen tomorrow if the government is serious about protecting birds of prey."
Cambridgeshire and Lincolnshire police said they were working with the National Wildlife Crime Unit to trace the culprits.
Alan Roberts, investigative support officer from the unit, said: "A lot of people travel to East Anglia because of the diversity of wildlife, which in turn boosts the local economy.
"The pointless killing of these birds in such an indiscriminate way stands to undermine the hard work of a lot of people.
"We will continue to strive to seek out and prosecute individuals involved in this sort of offence "