Cornish shipwreck photo collection sold to museum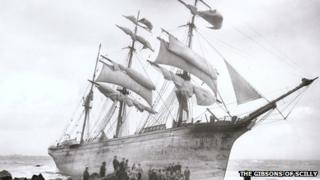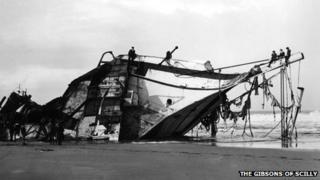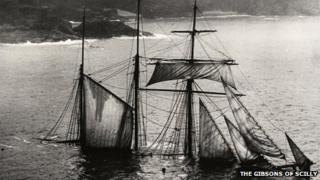 A collection of hundreds of photographs of Cornish shipwrecks taken by four generations of the same family has been sold at auction.
The images, taken over about 130 years, went for £122,500.
The lot which was sold at Sotheby's in London included 1,000 negatives of more than 200 ships.
The collection was purchased by the National Maritime Museum in Greenwich which described it as a "remarkable archive".
The Gibsons often used hand carts to transport a portable dark room in order to reach the shipwrecks
The images were then transmitted by telegraph to newspapers.
Sandra Gibson, who continues the family business on the Isles of Scilly, said that "the time was right" for the pictures to be properly archived "rather than sitting on a shelf".
Lord Sterling of Plaistow, chairman of the Royal Museums Greenwich, said: "The acquisition of this remarkable archive will enable us to create a series of exhibitions that will travel across the country, starting with the South West.
"I am very pleased that the National Maritime Museum has been able to secure this wonderful collection for the nation, and I know that the Gibson family are delighted that their family archive will remain and be displayed in this country".
Photographs of wrecks like the Glenbervie, which went aground near Lowland Point in December 1901, and The Mildred, which got into trouble off Gurnard's Head in 1912, were among those sold at the auction.