Greenpeace detainees arrive in St Petersburg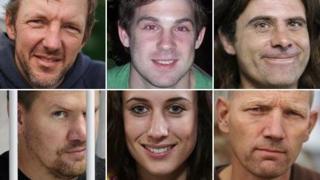 Thirty people detained in Russia following a Greenpeace protest have arrived in St Petersburg, the organisation has said.
The 28 activists and two journalists - including six Britons - have been moved to the city from a jail in Murmansk.
They have been charged with hooliganism over an Arctic oil drilling demonstration in September.
On Monday, investigators said the move meant the detainees were closer to the appropriate court.
Greenpeace said: "The Arctic 30 departed from Murmansk in a prison wagon early on Monday and upon arrival in St Petersburg, the wagon was detached and moved 1km away from the station.
"The authorities moved the detainees to transportation buses, surrounded by many police."
The organisation said there were five detention centres in St Petersburg and the detainees were being split between them.
Russell Bryan, the brother of freelance video journalist Kieron Bryan who is being held, said they had not spoken to him on the phone for about two weeks.
"My father received a telephone call from an interpreter confirming Kieron has been moved to a detention centre in St Petersburg."
Russell said the move to the city made it easier for families and lawyers to visit.
"[But] they still face very serious charges and we just want him out as soon as possible."
In October, the family confirmed they were planning to visit Kieron.
Russell added they were still hoping to visit him and were in the process of trying to get permission through solicitors and investigators.
The activists and journalists were originally charged with piracy, but Russian authorities dropped those charges and replaced them with hooliganism, which carries a lesser sentence.
The Britons being held are journalist Kieron Bryan from London, activist Philip Ball from Oxfordshire, logistics co-ordinator Frank Hewetson from London, activist Anthony Perrett from Newport in south Wales, communications officer Alexandra Harris from Devon, and second engineer Iain Rogers from Exeter.
They were held when Russian security sources stormed the ship following the demonstration.
Greenpeace denies any wrongdoing and is calling for the release of the detainees - who come from 18 countries - and its vessel, Arctic Sunrise.