Norfolk Police and Crime Commissioner expenses' policy review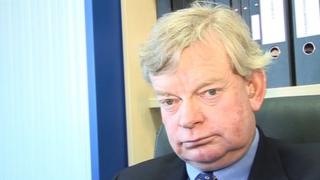 Expenses policy for Norfolk's Police and Crime Commissioner is to be reviewed after a decision by incumbent Stephen Bett to repay £3,000 for travel between his official HQ and home.
Mr Bett voluntarily decided to repay the money after the BBC revealed he had claimed for 70 trips from his home to the offices in Wymondham.
PCC chief executive Mark Stokes is to carry out the review.
Mr Bett is due to repay the £3,000 on 28 November.
In response to questions from the BBC it was also revealed that Mr Bett had claimed £14.40 in mileage for attending the funeral of a Police Community Support Officer and a county council employee who worked in the "community safety field".
'Not justified'
The office for the commissioner said he was representing the department in attending the funeral.
A spokesman for the commissioner said: "The new chief executive (who started on 21 October) is undertaking a full review of the office policies around expenses claims and the way this is presented on our website.
"However as the PCC said on Friday he will pay back any money claimed for travelling from his office (at home address) to Wymondham and will not claim for those journeys again."
Richard Murphy, a chartered accountant and economist, told the BBC last week the claims were not tax-allowable.
The PCC's spokesman said their website was under review with the aim of making information on expenses and other matters "more easily accessible".
'Above board'
Mr Bett, a former Conservative county councillor and Norfolk Police Authority chairman, was elected as independent PCC a year ago on an annual salary of £70,000.
On taking up the post, he designated his home near Hunstanton as his workplace and claimed mileage expenses when travelling from there on PCC business.
From November 2012 to August 2013, he claimed a total of £4,947.75 in mileage expenses.
Of that, £3,024 was for the 96-mile round trip from his home to the headquarters in Wymondham.
Speaking last week, Mr Bett said: "I want to make it categorically clear that I believe everything I have done since taking office regarding my expenses has been above board."