Typhoon Haiyan: The fears of UK Filipinos searching for loved ones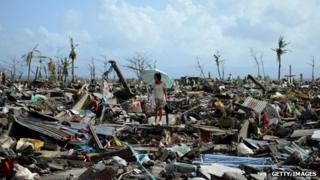 Filipinos in the UK have spoken of their desperate attempts to contact loved ones back home in the wake of typhoon Haiyan.
At least 10,000 people are feared dead and thousands of survivors desperately need food, fresh water and shelter.
More than 120,000 people from the Philippines live in England and Wales, with 44,000 in London.
They have described the heartache and sleepless nights caused by the "national calamity".
'Only hearsay'
Milagros Navarra has been unable to contact her three children aged 14, 13 and nine who live with her sister-in-law.
They were staying in Beriso Heights, near the devastated city of Tacloban - on the island of Leyte, which bore the brunt of the storm.
She said she had been unable to sleep or go work because of the worry.
"As a mother I carry a heavy heart to see the pictures and video of Tacloban city.
"I am fearful because I have not been able to contact my loved ones.
"It's been days I've been trying to contact my family and children," she said.
The money sent home by Filipinos working abroad is vital to the Philippines' economy.
Ms Navarra told the BBC World Service: "As a mother with three children I have no choice but to leave the country for them to have a better future, a better life and that is my dream for them."
Irene Somera lives in Streatham, south London, and works as a nurse.
She said her brother took eight hours to get a phone signal in Leyte to let her know he and her father were safe. Her aunt was killed in the floods in Tacloban.
Her concern is that although most of her family survived they now have no water or food.
She said: "All the attention is on Tacloban, but I am from Burauen and I want people to know there are more places in the province that need help.
"My heart bleeds. Every day I cry."
'In pieces'
Sonny Laragan, manager of a radio station for Filipinos in the UK based in Roehampton in south-west London, has been trying to offer support to listeners.
"It's one calamity after another," he said.
"We had a recent typhoon and then an earthquake in Bohol and Cebu and now this.
"We were doing fundraising campaigns before this happened."
He said it was already a struggle for people working hard to send money back.
He said there had been a large increase in the number of Filipinos moving to the UK to work in hospitals in the late 1990s and early 2000s, joining those largely working in domestic roles.
Florita Morante, 47, lives in the Isle of Dogs in east London and works as a nanny in South Kensington, west London.
Her husband Archie works at a hotel in Kings Cross, north London. They have an 11-year-old son Benjamin.
Mrs Morante's family lives on Leyte.
She said: "The biggest problem is that there's no supplies and all the supplies usually come from Tacloban which is wiped out.
"My heart aches because Tacloban was our main city."
Her son's scout group is going to fundraise.
Her friend, a housekeeper, has family in Guiuan in the province of Eastern Samar and she has not been able to make contact with them.
Mrs Morante said: "She's in pieces. She doesn't know if her nephew is still alive or not."
Bob King and his Filipina wife live in Sheffield, but have a home in the village of Sulangan on Sama Island, where his wife's family live.
He said: "We have heard nothing for days.
'Sulangan will be gone'
"We have been sending emails, texts and phone calls - we've been doing everything we possibly can to contact people.
"Apparently the storm went right over the top of our home and nothing has been heard since.
"There are no phone lines, no power, nothing.
"If Tacloban was bad and Guiuan was bad, Sulangan will be gone."
Despite the current desperate scenes from the Philippines, Mr Laragan said the people were "resilient" and accustomed to dozens of storms each year.
He said: "There are so many typhoons and earthquakes. They smile in the midst of disappointment."