Greenpeace protest detainees moved to St Petersburg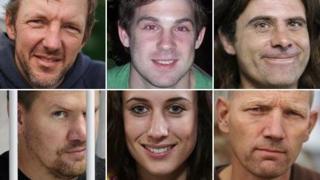 Thirty people detained in Russia following a Greenpeace protest in the Arctic are being moved to another city.
The 28 activists and two journalists - including six Britons - have been charged with hooliganism over the oil drilling demonstration in September.
They had been held in a jail in Murmansk but have since been moved to St Petersburg.
Lawyers were told they were being moved when they went to visit them on Monday.
The activists and journalists were originally charged with piracy, but Russian authorities dropped those charges and replaced them with hooliganism, which carries a lesser sentence.
Investigators said the reason was to move the detainees closer to the appropriate court.
'Overcrowding'
Families and diplomats will also find it easier to visit them in jail in St Petersburg.
However, there are concerns the conditions in the jail there may be worse because of overcrowding.
The Britons being held are journalist Kieron Bryan, 29, from London, activist Philip Ball, of Oxfordshire, logistics co-ordinator Frank Hewetson from London, activist Anthony Perrett from Newport in south Wales, communications officer Alexandra Harris, originally from Devon, and second engineer Iain Rogers, from Exeter.
They were held when Russian security sources stormed the ship following the demonstration.
They are due to arrive at Russia's second largest city at about noon local time on Tuesday [08:00 GMT], it is understood.
The mother Mr Rogers expressed her concern that some of the prisoners will be "lost" during transportation.
Sue Turner said she was concerned after jailed Pussy Riot member Nadezhda Tolokonnikova was reported missing last week.
She said: "I won't be really happy until they all arrive there and we know where all 30 are.
"They have lost a Pussy Riot member, she's disappeared.
"What's to say that they cannot lose some of our Arctic 30 while they are transporting them from Murmansk to St Petersburg and then onto maybe different prisons in St Petersburg?"
She added she thought consular support was "initially was very patchy", although she added it had improved.
The families of all six Britons being held met with Europe minister David Lidington.
The Foreign Office said the meeting allowed Mr Lidington to hear the families' specific concerns and provide an update on the actions it had taken, including continuing to provide consular assistance and regular contact between the UK government and the Russian authorities.
Greenpeace denies any wrongdoing and is calling for the release of the detainees - who come from 18 countries - and its vessel the Arctic Sunrise.
It said the detainees were being transported to their new location by train.
A spokesman for Prime Minister David Cameron said he still believed the charges were "excessive because activists are not hooligans".
The spokesman said: "They are protestors, but he understands the Russian judicial process has to be gone through, but he wanted to be sure that at the highest level of government in Russia our concerns were understood."
Mr Lidington also said there needed to be prompt, fair and proportionate action by the Russian judicial system.