Connecting the east of England with the Far East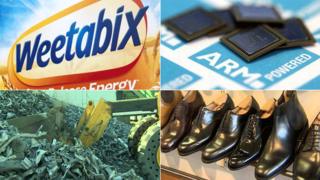 As trade links grow between Britain and China, the BBC looks at four firms in the east of England seeking to tap into the growing markets.
In a Victorian factory in Northamptonshire, craftsmen are working in much the same way as they did nearly 130 years ago.
Joseph Cheaney and Sons has been making shoes in Desborough since 1886.
At about £300 a pair they don't come cheap, but the price tag is not putting off a new class of well-heeled Chinese consumer.
Cheaney is among a number of companies the east of England hopes will exploit developing markets in the Far East.
Two years ago it didn't sell any shoes there at all. Now it hopes China will soon be one of its biggest export markets.
It has set itself a target that the Chinese market will account for between 10 and 15% of output, equating to about 10,000 units, within the next two to three years.
'Buying into heritage'
Sales are on course to hit that target and the company has taken on new staff to meet the demand.
"The Chinese are really buying into our heritage," said William Church, joint managing director.
"They are also buying into the fact that it's made in England and with that comes the confidence that it's high-grade and well-crafted."
While Cheaney is establishing itself in China with a traditional product, Cambridge-based ARM Holdings is doing so with state-of-the-art technology.
The company, founded in 1990, designs and licenses microprocessors and software. Its technology can be found in more than 95% of the world's smartphones and the company is now worth nearly £14bn.
It now works with more than 200 Chinese companies and has three offices in the country employing 220 people.
"More than 45 billion ARM-based chips have been shipped by our partners to date and China is becoming an increasingly important part of that," said Graham Budd, chief operating officer.
He said China's population of 1.3bn, its rapidly-growing middle class and major investment in infrastructure makes it a good place to trade.
"There are a lot of business opportunities there so we have about 150 people in China. It's really about being close to the business opportunity and close to our Chinese partners," he said.
Container ships laden with consumer goods from China have long been a familiar sight at British ports, but all too often those containers have been returning empty.
In the year to June, imports from China to the east of England were actually down 6% on the previous 12 months. Exports, meanwhile, were 8% up over the same period.
Sackers Recycling, based at Great Blakenham, near Ipswich, has been exploiting its closeness to Felixstowe to export scrap metal to China, where it is melted down and recycled.
"I can't emphasise enough how important they are to us," said David Dodds, joint managing director.
"We enjoy the relationship we have developed over the last 10 years with our Chinese customers.
"They are a huge consumer of the metals we produce. They are consuming somewhere in the region of 7.7m tonnes of copper per annum - 40% of global consumption - and 44m tonnes of aluminium, which accounts for 43% of global consumption.
"The figures speak for themselves. They are highly important to my business.
"There will come a point where they can actually consume and produce their own metal, but you are looking at around 15 to 20 years. In the meantime, in the UK we fill our boots."
'Go and meet'
But developing trading links with the Chinese didn't just happen overnight.
"They don't do business straight away," said Mr Dodds.
"You can't just steam in. You can only do it one way - just jump on a plane and go and meet them.
"They want to know you socially as a person, then as a company. After that, business will come."
Another company developing its business in China is Weetabix.
Chinese firm Bright Foods paid nearly £700m for a controlling stake in the Northamptonshire-based breakfast cereal manufacturer 18 months ago.
Founded in 1932 as the British and African Cereal Company, the firm changed its name to Weetabix four years later and now produces 70m of the famous biscuits every week at its Burton Latimer factory.
It hopes its products including Weetabix, Alpen and Ready Brek can win a share of the rapidly expanding breakfast cereal market in China.
While Chinese people traditionally eat hot meals, including noodles and rice, for breakfast, they are developing a taste for Western-style packaged food.
"We have done a lot of research in the market place and we believe there's a great opportunity to take the brands to China," said Giles Turrell, Weetabix chief executive.
"They do have some cereal products in their diet but what we're finding is Chinese consumers, like us in the UK, are increasingly time-starved and they are looking for a healthy, nutritious start to the day and we believe we can do that with our brands."
But with about 90% of Chinese adults thought to be lactose intolerant, it could take some time before cereals drenched in milk are widely consumed there.
"When you put two Weetabix with some semi-skimmed milk in a bowl they are a bit troubled about it at the beginning," admitted Mr Turrell.
"But once they start eating the product, they recognise it's low in sugar, low in salt and it's high in fibre and it gives them the energy for their busy day ahead.
"I'm not sure we're going to change the whole nation but I think there's an emerging middle class that are aspiring to western brands."
Weetabix brands are already on sale in China, exported from Britain. In time, the company plans to manufacture in China, but not at the expense of its Northamptonshire operation.
The company prides itself on only using wheat from within 50 miles of its base, although last year's disastrous harvest forced it to scale back production and source some wheat from outside the UK.
"As long as our business is healthy and successful in the UK we will continue to make the brands here in the UK," said Mr Turrell.
For more on this story, watch a special edition of Look East live from Shanghai on BBC1 at 18:30 GMT on Wednesday.