Plymouth bishop to carry out Isles of Scilly parish work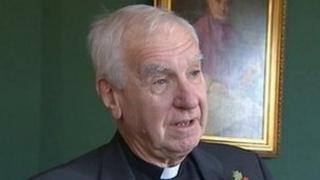 The Roman Catholic bishop of Plymouth is to carry out parish work on the Isles of Scilly after he stands down from his current role.
The Right Reverend Christopher Budd, who has led the Diocese of Plymouth since 1986, is due to be succeeded by Monsignor Mark O'Toole next January.
He said he would work on Scilly because of a promise made "many years ago".
He added he expected to be involved in other things that were "proper Scillonian".
He said: "On St Mary's, we have a small chapel and a flat and I'll be priest for the very small group there.
"I'll also take part in work with the Anglicans and Methodists, who have ministers out there, so I'll be part of that scene.
"It's a very tiny Catholic group, but I said many years ago I would come and be their priest for a little while."
Ninety parishes
Although there were only "about a dozen" parishioners on the islands, he said church attendance rose during the tourism season.
He added: "I'll probably get up to other things that are proper Scillonian, but I don't know what those are that moment."
The Diocese of Plymouth covers Cornwall, Devon and Dorset.
It has more than 90 parishes stretching from Penzance and the Isles of Scilly in the west to parts of Bournemouth in Dorset.