New bishop chosen for Plymouth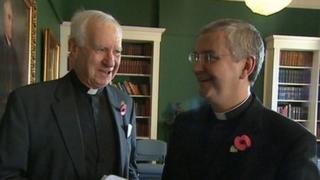 A new Roman Catholic bishop elect has been announced for Plymouth.
Monsignor Mark O'Toole is due to be ordained in January, taking over from the Right Reverend Christopher Budd, who has served in the post since 1986.
Monsignor O'Toole said he was "deeply humbled" by his appointment and looked forward to putting down "firm roots" in the South West.
The diocese, which was first established in 1850, covers Cornwall, Devon and Dorset.
It has more than 90 parishes stretching from Penzance and the Isles of Scilly in the west to parts of Bournemouth in Dorset.
London-born Monsignor O'Toole, 50, is currently rector of Allen Hall Seminary in London.
He was formerly private secretary to Cardinal Murphy-O'Connor when the cardinal was Archbishop of Westminster.
Monsignor O'Toole is due to be ordained at Plymouth Cathedral on 28 January.
Bishop Budd, who was born in 1937 in Romford, reached retirement age almost 18 months ago, Catholic newspaper the Tablet said.
He said it was a "great joy" to welcome his successor.