Norfolk PCC Stephen Bett pays back more than £3,000 in expenses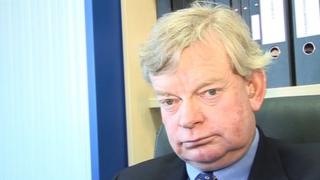 A police and crime commissioner who claimed more than £3,000 for driving between his home and his official headquarters is to pay the money back.
Stephen Bett, PCC for Norfolk, claimed for 70 trips from his home to the offices in Wymondham.
He said he had done nothing wrong but would return the money so that the controversy would not "tarnish the reputation of policing in Norfolk".
He said he would no longer claim mileage for those journeys.
Mr Bett, a former Conservative county councillor and Norfolk Police Authority chairman, was elected as independent PCC a year ago on an annual salary of £70,000.
On taking up the post, he designated his home at Thornham, near Hunstanton, as his workplace, and claimed mileage expenses when travelling from there on PCC business.
'A kamikaze move'
From November 2012 to August 2013, he claimed a total of £4,947.75 in mileage expenses.
Of that, £3,024 was solely for the 96-mile round trip from his home to the headquarters in Wymondham.
For each of these 70 trips, he received £43.20.
Richard Murphy, a chartered accountant and economist, said the claims were not tax-allowable and could not be justified.
Jon Harvey, a Labour town councillor in Buckingham and a blogger on PCCs, said he was "stunned and surprised" at Mr Bett's mileage claims and described them as a "kamikaze move".
After the BBC broke the story, Mr Bett issued a statement saying he would pay back the money.
He said: "I want to make it categorically clear that I believe everything I have done since taking office regarding my expenses has been above board.
"On election I took advice on how and what I could claim and have followed that advice to the letter. I do not believe I have done anything wrong.
"I was absolutely clear from the start that my personal office would be my home and this was checked and cleared by the Office of the Police and Crime Commissioner for Norfolk and my accountant.
"As far as I am concerned this was all transparent and above board."
'Doing my job'
He said he had always travelled the "length and breadth" of Norfolk, talking to people about policing and crime in our county.
"Frankly, I have been doing my job," he said.
"However, I am very aware that headlines such as those I have seen today could easily tarnish the reputation of policing in Norfolk.
"Anyone who knows me or has heard me speak knows this is the last thing I would want.
"After discussions with my newly appointed chief executive I have decided to pay back the money I have claimed travelling from my office to the Wymondham headquarters.
"I will also no longer claim when I travel from my office to the Wymondham HQ.
"If there are any further questions to answer I am happy to be held accountable by the appropriate authorities."
Reacting to the announcement, Mr Murphy said: "I'm delighted that Mr Bett has decided to repay this money.
"No-one suggested that what he was doing was in any way wrong but it certainly looked like the reimbursement of Mr Bett's private expenses.
"That did not seem consistent with the objectives of his commission which says it must cut costs for Norfolk's police service."